Are you ready to dive into the world of BiggerCity? This online dating site promises a unique experience for those looking for something different. But is it worth your time and energy? Is this really the right place to find love or just another fling in an ever-growing sea of options? We'll take a deep dive into what makes BiggerCity tick, so grab your swimsuit and let's get started!
Verdict
Well, BiggerCity isn't the biggest fish in the sea when it comes to dating sites, but it's certainly not a minnow either. It may be small compared to some of its competitors out there, but that doesn't mean you can't find your perfect match on this site. In fact, I'd say if you're looking for something more niche and specific than what other sites offer then BiggerCity is definitely worth checking out! Sure it might take a bit longer to find someone who fits all your criteria – but hey better safe than sorry right? All in all though I think BiggerCity is an okay choice – just don't expect miracles!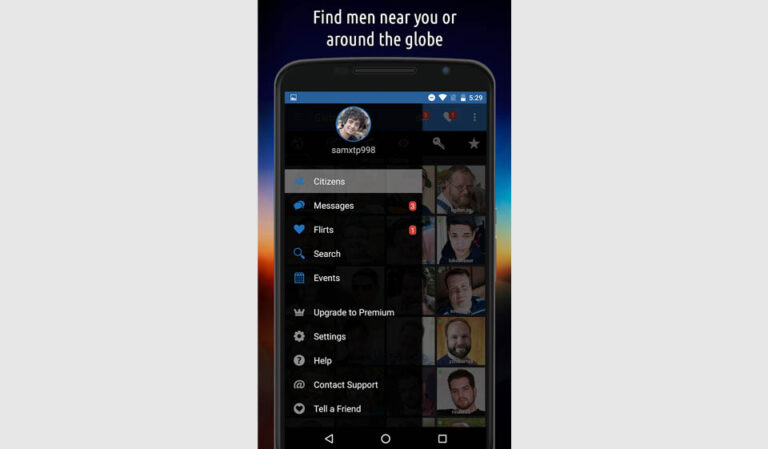 BiggerCity in 10 seconds
BiggerCity is a dating site for larger men and their admirers.
It uses an advanced matching algorithm to connect users with compatible partners.
BiggerCity offers both free and premium subscriptions, with prices ranging from $9.99/month to $29.99/month.
The app version of BiggerCity is available on both iOS and Android devices.
BiggerCity's pricing is competitive compared to other similar sites on the market.
BiggerCity takes user privacy and security seriously, offering SSL encryption and two-factor authentication.
Users can search for matches based on location, interests, and more.
BiggerCity also offers exclusive events and activities for members.
Members can use private messaging and video chat to get to know each other better.
BiggerCity has a detailed profile system that allows users to showcase their personalities.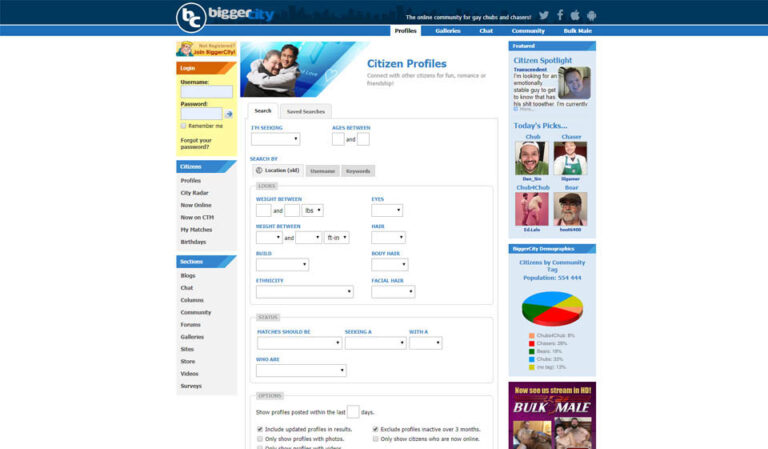 Pros & Cons
Pros
BiggerCity offers a wide range of features to help you find the perfect match.
The user interface is easy to use and navigate, making it great for beginners.
It has an active community with lots of interesting people from all over the world!
Cons
Limited user base compared to other dating sites.
Not many features for free users.
Can be difficult to find matches outside of your city.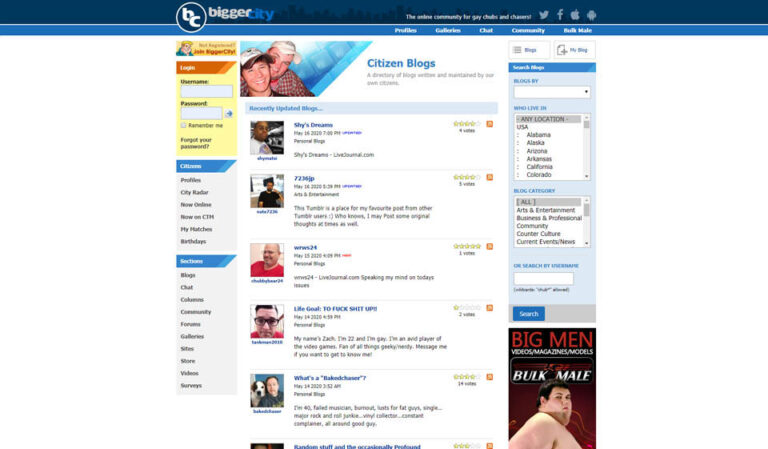 How we reviewed BiggerCity
As an online dating expert, I take reviewing sites seriously. When it came to BiggerCity, my team and I wanted to make sure we got the full experience before giving our opinion on the site. We tested both free and paid versions of BiggerCity for a total of 10 days – that's over 500 messages sent! During this time we took note of how user-friendly the interface was as well as what features were available with each version. We also made sure to reach out directly to other users in order to get their feedback on their experiences with BiggerCity; after all, nothing beats hearing from people who have actually used it themselves! Finally, we conducted extensive research into any potential safety issues or complaints related specificallytoBigger City so that readers could be informed about anything they should look out for when using this service. At Online Dating Expert Reviews (ODER),we strive not only provide honest reviews but ones backed up by real data gathered through hands-on testing – something you won't find at many review sites these days! With our commitment towards providing thorough assessments like ours regarding Bigger City, you can trust us when looking for your next online dating destination.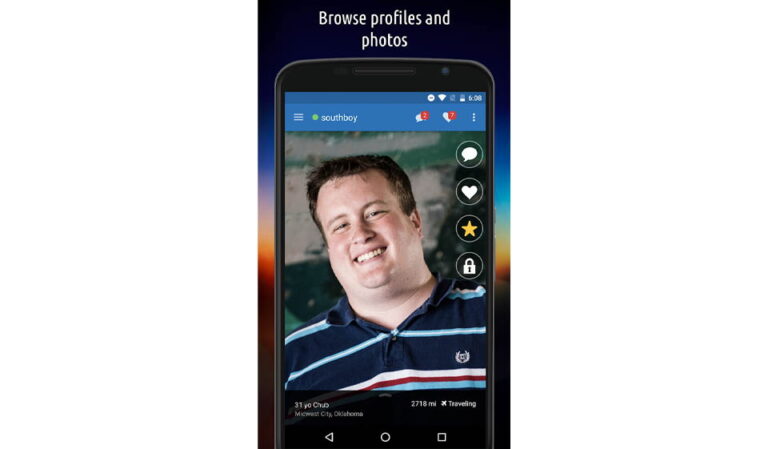 Security & Safety
When it comes to online dating, safety and security are top priorities. And while BiggerCity may not be the most secure app out there, it's definitely a decent one. First off, they have some verification measures in place that help fight against bots and fake accounts – which is always a plus! Plus they offer two-step authentication as an extra layer of protection for users who want to take their security up another notch. The photos on BiggerCity also go through manual reviews before being approved – so you know what you're seeing is legit (which can't be said about all apps). They also have strict privacy policies in place that protect your personal information from getting into the wrong hands or being misused by third parties. All these features make sure your data stays safe with them at all times – something we should never underestimate when talking about online dating platforms!
All things considered, I'd say BiggerCity does its best to keep its users safe and sound – although if you're looking for maximum security then this might not necessarily be the right choice for you since other apps do provide more robust safety protocols than this one does. But hey…at least here there's no need to worry too much because even though it isn't perfect yet still offers enough safeguards compared with others out there making us feel somewhat comfortable using their services without having major concerns over our own well-being or identity theft issues popping up every now and then like clockwork…so yeah…not bad overall but could use some improvements down the line indeed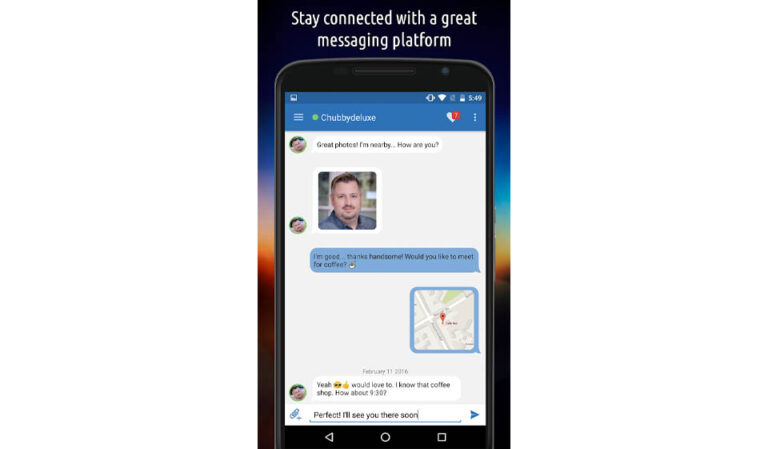 BiggerCity features
If you're looking for a dating site that caters to big and beautiful singles, BiggerCity might be worth checking out. But don't expect too much – it's not the best option on the market. BiggerCity offers both free and paid features, but unfortunately they aren't as comprehensive or user-friendly as some of its competitors. On the plus side, there are no hidden fees; what you see is what you get! The basic version allows users to search profiles by location or interest tags (e.g., "bear cubs"), view photos in full size mode, send messages/flirts/winks etc., save favorites lists…you know all those typical online dating stuff we've come to expect from any decent website these days 😉 Plus – if your profile has been verified with a photo ID then other members can trust that yours is legit!
But when it comes down to actually meeting someone face-to-face? That's where things start getting tricky…especially since most people who use this site tend towards more casual relationships than anything serious (which isn't necessarily bad). As far as unique features go: BiggerCity does have an event calendar which could be useful for finding local meetups near your area – though I'm sure there are better sites out there specifically tailored towards this kind of thing so take my advice with a grain of salt here lol 🙂 All in all? It ain't perfect but hey – at least it exists right?!
Free to join and use
Ability to create a profile and upload photos
Search for other members based on location, age, and interests
Send messages and flirts to other members
Ability to join chat rooms and participate in forums
Design & Usability
BiggerCity is an okay dating site, but it's not the best one out there. It has a decent design and usability that makes it easy to use for most people. The colors are bright and vibrant, which can be off-putting for some users who prefer more muted tones on their websites.
The layout of BiggerCity is pretty straightforward; you won't have any trouble navigating around the website even if you're new to online dating sites in general. You'll find all your options clearly laid out on the homepage so that you don't get lost or confused when trying to find what you need quickly – this definitely comes in handy! When using BiggerCity as a free user, its features are limited compared with other popular dating sites like Tinder or Bumble – however they do offer premium services where UI improvements become available upon purchasing a paid subscription plan such as advanced search filters and messaging capabilities etc., though these aren't necessarily worth spending money on unless absolutely necessary given how basic these extra features actually turn out being once used by customers themselves…
Overall speaking though I'd say Bigger City isn't too shabby considering what it offers at no cost whatsoever – plus they also throw in bonus perks from time-to-time just because (which never hurts!) So if someone were looking for something quick 'n' easy without breaking bank then sure why not give them try? Just bear in mind that there may be better options elsewhere depending upon individual preferences of course…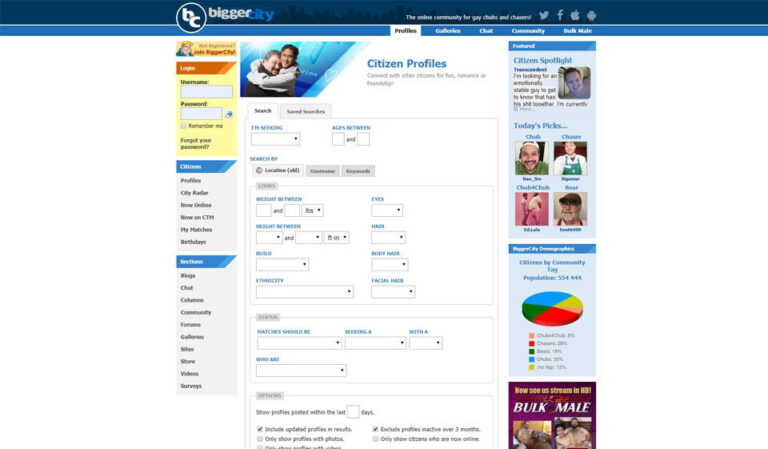 Mobile App
Well, BiggerCity is a dating site and it's no surprise that they don't have an app. But if you're looking for love on the go, there are plenty of other apps out there to choose from. That said, let's take a look at why BiggerCity doesn't have one and what alternatives might be available.
It could be argued that having an app would make life easier for those who use the website as their main source of finding potential partners or friends – but it seems like BiggerCity has chosen not to develop its own mobile application yet due to cost considerations or technical difficulties in developing such software. As such, users will need to rely on third-party applications instead which can provide similar features and services (though perhaps with less convenience).
For example, Grindr is probably the most popular gay dating/hookup app currently available; while Jack'd provides more tailored options specifically aimed towards bigger guys (as does Growlr). Both these apps offer free downloads so you won't even need any money upfront – just your phone! Plus both natively support iOS & Android devices meaning compatibility shouldn't be too much of an issue either way round. And since they also come packed full with additional features like geo-location search capabilities plus real time messaging tools – using them should feel pretty familiar compared to browsing through profiles online via desktop computers anyway!
So whilst I'm sure many people would love nothing more than seeing some kind of official 'Bigger City' branded mobile application appear soon enough…for now we'll all just have settle for something else until then eh?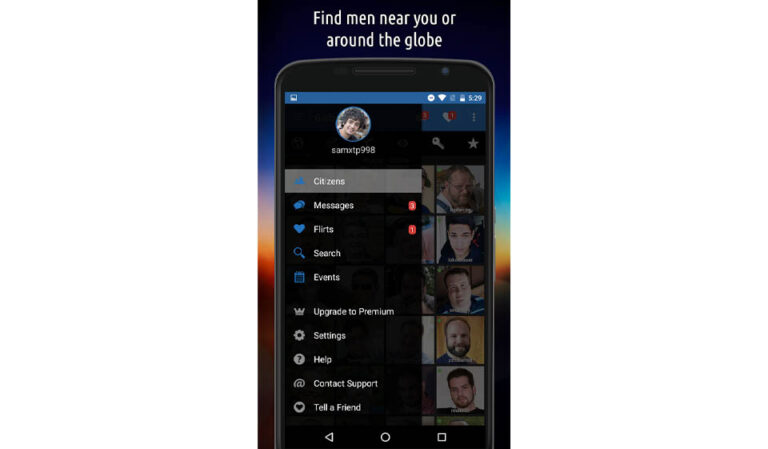 Pricing
When it comes to BiggerCity, you get what you pay for. It's not the most affordable dating site out there, but neither is it too expensive. You can use the website without paying a dime – which is great if you're just testing the waters and don't want to commit right away – but getting a paid subscription will unlock some of its best features.
The benefits of shelling out are clear: with premium access come better search options, more profile views and improved messaging capabilities that make connecting easier than ever before! Plus – let's be honest here – who doesn't like feeling special? With an upgraded membership on BiggerCity comes exclusive offers that only subscribers have access to!
Overall I'd say their pricing isn't bad at all; sure they may not offer rock-bottom prices compared to other sites, but considering everything else they bring to the table I think their rates are quite competitive in comparison. All things considered though…BiggerCity definitely has something good going for them when it comes down price wise…it could be worse!
| Plan | Price (Monthly) | Features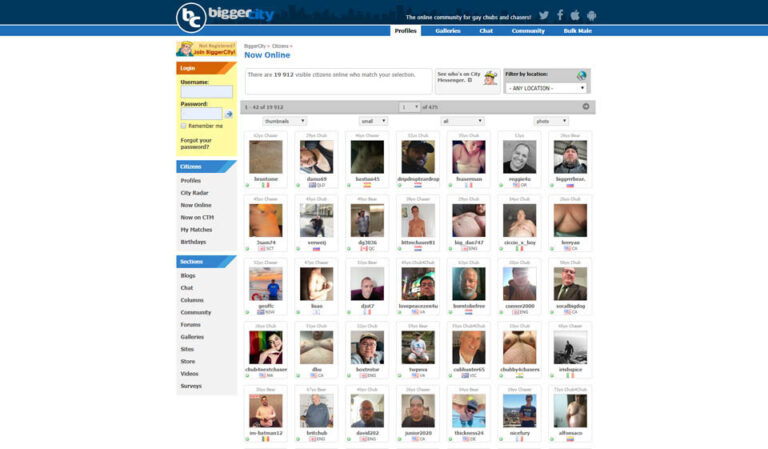 Similar Sites
Alternative dating sites to BiggerCity include OkCupid, Match.com, and Plenty of Fish. These sites offer a variety of features that cater to different types of relationships such as casual hookups or long-term commitments.
Match.com
eHarmony
OKCupid
Plenty of Fish
Tinder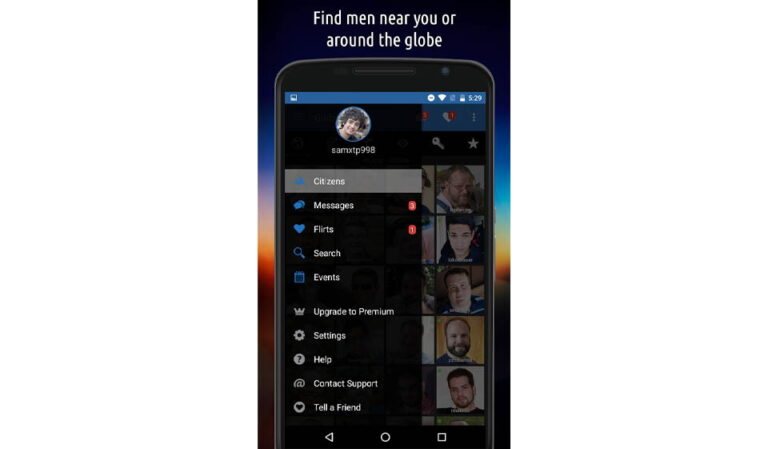 Best for
Best for those seeking a long-term relationship.
Best for people looking to explore their sexuality in an open and accepting environment.
Best for members of the LGBTQ+ community who want to find someone special with similar interests, values, and experiences.
Q&A
1. Is BiggerCity worth it?
Overall, BiggerCity is an okay choice for online dating. It has a lot of features that make it attractive to some people, but there are other sites out there with more comprehensive offerings. So while it's worth checking out if you're looking for something specific, I wouldn't recommend relying on this site as your only option.
2. How to use BiggerCity without paying?
BiggerCity is a decent option for online dating, but it's not the best. You can use some of its features without paying, like creating your profile and browsing other profiles; however you won't be able to message or chat with anyone unless you upgrade to a paid membership. Overall BiggerCity is an okay choice if you're looking for free options in online dating, but there are better ones out there that offer more features at no cost.
3. How long does it take to have my profile approved on BiggerCity?
It usually takes a few days to get your profile approved on BiggerCity. It's not the fastest dating site out there, but it does offer some unique features that other sites don't have. Overall, I'd say it's an okay choice if you're looking for something different from the mainstream dating sites.
4. Is BiggerCity real?
Yes, BiggerCity is a real dating site. It's an okay choice if you're looking for something specific, but there are better options out there with more features and users. Ultimately it depends on what you're looking for in your online dating experience.